Hermit crabs (superfamily Paguroidea) are most famous for using snail shells as their home, having evolved a soft, spiral abdomen to be able to use them for protection. But they are more flexible about their choice of abode than you might expect.
Different groups of shelled organisms have risen and fallen in abundance through geological time. During the time of the dinosaurs, ammonites (relatives of modern squid and octopus) were among the most common marine organisms, and hermit crabs were there to recycle their shells when they died.
Mollusks aren't the only contractors for hermit crabs. Some hermits utilize the skeletons of colonial organisms like bryozoans as a home. Bryozoans are filter-feeding colonial animals made up of thousands of tiny tentacled organisms living in the pores of a shared skeleton. The extinct bryozoan Hippoporidra lived in symbiotic partnership with hermit crabs, growing around a gastropod shell to attract a hermit crab partner. This was an example of mutualism: by providing a home for a crab, the bryozoan would be transported to new environments with plentiful food particles to eat, and also would be protected from their arch-enemy, nudibranchs (sea slugs). Some modern day hermits, such as Manucomplanus varians of the Gulf of California, have evolved very similar partnerships with live staghorn corals.
Not all hermit crabs live in hard houses. Some deep sea forms partner with anemones, with the stinging tentacles serving as an effective defense.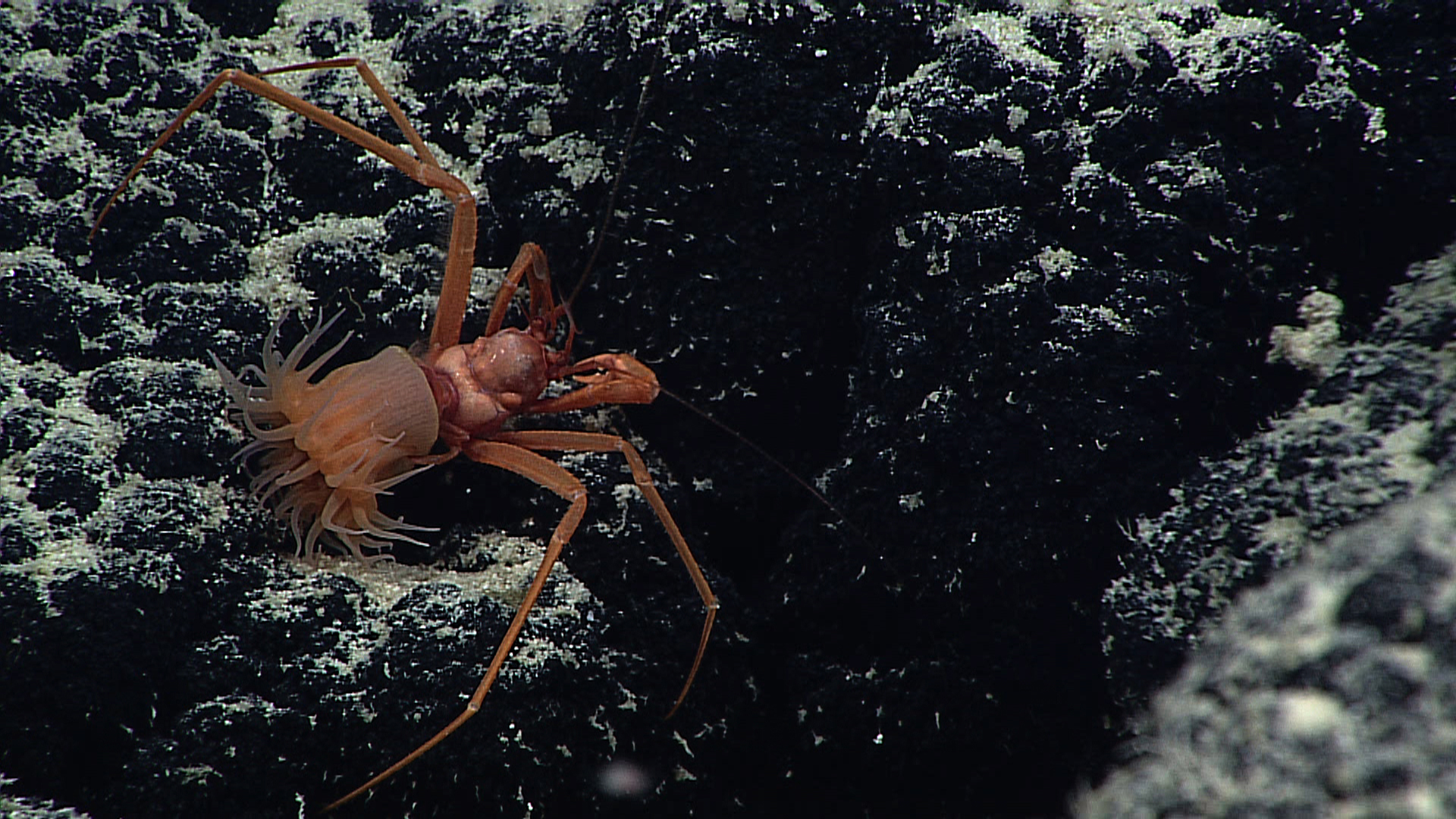 The recently discovered green-eyed hermit crab, which also lives in deep water, lives in a glued-together mass of sand created by tiny anemones, which continue to grow the structure to fit the crab as it increases in size.
Unfortunately, hermits adapted for gastropod shells are unable to find adequate homes in some areas, due to overharvesting of shells for the tourist trade as well as an excess of plastic trash. These crabs make do with whatever items that they can find. Plastic is not an ideal home material for hermits. Bottlecaps and narrow tubes do not allow the crab to fully retract for protection and leach chemicals which may harm the crab. The crabs also nibble on their shells as a source of calcium, which is obviously not possible with plastic.
But hermits continue to impress me with their flexibility and ingenuity in their search for homes. For a hermit crab, home is where the abdomen is.